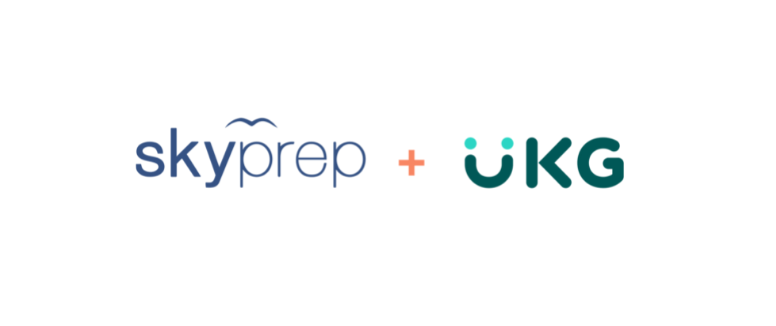 SkyPrep and UKG Kronos: Seamlessly Integrate Your HR System with Your LMS
Your training shouldn't be complicated, it should be as simple as possible. With SkyPrep's new UKG Kronos integration, we made it easy to streamline your training processes by connecting your LMS with your HR system. The integration automatically pulls employee information from UKG Kronos into the SkyPrep platform, eliminating the repetitive and time-consuming task of manually creating new users and updating existing learner profiles.
Continue on reading to learn more about the integration and how it can help add more time back into your already busy day.
What's Great About The SkyPrep + UKG Kronos Integration:
Connects Your Training Platform to Your HR System
The new integration connects both SkyPrep and UKG Kronos together so you're able to share information from your HR system to your LMS, creating a more seamless and efficient process.
Automates Repetitive Tasks
Admins are busy with their daily work activities. Adding even more tasks to their day will just make their work life more difficult. The integration cuts down on repetitive tasks they have to go through such as manually adding users of one system to another. This can be done all automatically, reducing admin workload and saving them a significant amount of time.
Ensures You Have Consistent Data Across Both Systems
Having to manage employee records on multiple systems takes a lot of effort and can often result in data inconsistencies. When you connect two systems together, it removes any possibility of human error and data inaccuracies by letting you pull employee information directly from one system to another. This helps to ensure that employee information is consistent, and up-to-date on both your training platform and HR system.
Easy to Integrate
Our integration is built-in, meaning anyone can easily set this up and start transferring information into SkyPrep. No coding is required so you don't need a developer or someone who is tech-savvy to build the integration. The integration can be set up with only a few clicks!
Bring Your LMS and HR System Together
Now that you know some of the key benefits you can get out of the SkyPrep + UKG Kronos integration, we'll go into more detail on what you can do with the integration:
Automatically create new learners
The main feature of the integration is to automatically add new learners in SkyPrep from the employee information you have on UKG Kronos, liberating you from the repetitive and tedious work of creating learner profiles one by one. For example, when you add new users to your HR system, you can import them into SkyPrep without having to manually enter their information in the LMS. This is especially useful when you have many new employees to add. 
When new users are created, you have the ability to enable email notifications so that when a learner is added, an email with their login information will be sent to them.
Update learner profiles with the latest information
Employee information changes all the time and now you don't need to worry about updating those details on two systems. Users between SkyPrep and UKG Kronos are synced, meaning user profiles are updated automatically in your LMS when changes are made on the HR system. This ensures employee records are consistent across both platforms with minimal effort from your end.
Seamless access to training
Your team members are already consumed by their daily work responsibilities and you don't want them spending their limited time on unnecessary tasks. With the integration, you are able to provide them with fast and easy access to their courses and training materials if you are on a UKG Kronos plan that supports single sign-on (SSO). 
Learners don't need to create a new set of credentials for the LMS and have to login to SkyPrep each time they need to access their training. It only takes them a few clicks to get into the platform, helping them to go through their training more efficiently and improve their productivity. SSO also eliminates the time and effort spent on recovering lost passwords or contacting IT support to regain access to their LMS.
If you'd like to learn more about the integration, please contact us and we will be more than happy to answer your questions. 
Contact Us To Learn More About The SkyPrep + UKG Kronos Integration
---
2 responses to "SkyPrep and UKG Kronos: Seamlessly Integrate Your HR System with Your LMS"