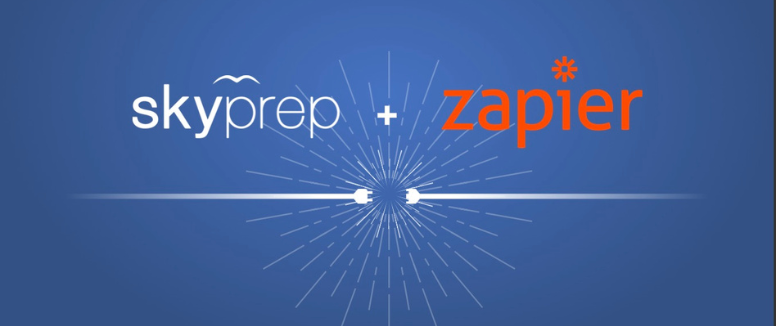 SkyPrep + Zapier: Integrate Your Most-Used Apps Seamlessly With Your LMS
Zapier is an integration tool that empowers you to automate your workflow and supports your teams in moving forward, faster. You can now connect your SkyPrep LMS with your favorite and most used apps such as Gmail, Salesforce, Mailchimp, Trello, Slack and over 1000 others.
You will be able to create automated workflows called "zaps". This means when an event happens in one app, Zapier will tell another app to perform or do a particular action. For example, you may automate tasks such as adding learners to mailing lists, creating help desk tickets, enroll CRM contacts into courses, and more.
Zapier Features
Synchronize Data Between SkyPrep and 1000+ Apps: Automatically push and pull data, such as user information between SkyPrep and other software you use. The feature allows you to synchronize data between your systems in real-time.
Create Multi-Step Workflow Automations: Automate your manual processes by creating multi- step workflow automations. Specify what actions are to occur when a trigger condition is met, such as auto- enrolling a user into a course when a new contact is added to your CRM.
Using the SkyPrep + Zapier Integration Will Enable You To:
Streamline eLearning processes
Keep learners on the right training path
Share key data across your systems
Establish consistent data
Elevate your online training programs
About SkyPrep:
SkyPrep LMS is an award-winning, intuitive industry leader. It enables you to deliver effective internal training, onboarding, compliance training, and more to your employees, partners, and customers. Utilized by over 500 organizations in various industries globally, it is a true testament to our user-friendly interface, simple yet innovative features, affordable pricing, and exceptional customer support. We are committed to providing the best online training platform solutions in the market, and take pride in helping empower your employees with the knowledge and skills they need to continue making your organization a success.
If you would like to learn more about using Zapier with SkyPrep, request a call and one of our product specialists will be happy to answer any questions you may have.
---