Personalize Your Learning With SkyPrep's AI-Like Chatbot
We're transforming the way learners go through their training journey with a more automated and personalized approach to learning. SkyPrep's new Artificial Intelligence (AI) chatbot delivers an innovative and time-saving feature to support users throughout their entire learning experience.
The AI-like chatbot acts as a personal coach to help learners seamlessly stay on track with their learning and build on their skills while saving them time when looking for training information on the platform.
Continue reading below to learn more about SkyPrep's AI Chatbot feature.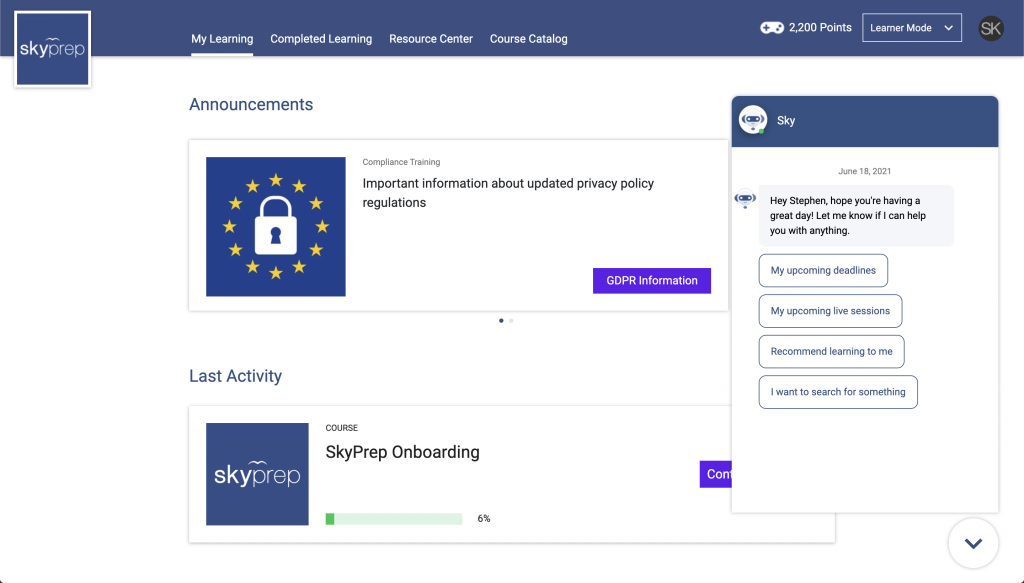 How It Can Help Learners Improve Training Performance
Chatbots can provide exceptional support for users when they go through their training. They provide a more personalized and engaging training experience as well as save them the effort when they are looking for information on the platform.
Personalized Learning
Chatbots act as a personal virtual coach for your team. They answer questions and deliver training information specific to an individual learner's needs, creating a unique learning experience for each person.
Help Learners Stay On Track
Your team will have a much easier time managing their training obligations. Chatbots will display upcoming deadlines that are fast approaching or if there is a live ILT session that will be taking place soon.
Encourages Learners to Build Their Skills
If your learners are looking to focus on their professional development and improve their skills, they can use chatbots to direct them to relevant courses to gain those skills and competencies. They will be shown a list of those courses, what the requirements are and what they will get out of the course after completion.
Go Through Training More Efficiently
Instead of having to manually dig through the platform or ask an administrator to get specific training information, such as course deadlines, the chatbot can provide that information within seconds with a click of a button. Administrators will also free up some time as they don't need to constantly keep track and remind their team to complete training.
Discover SkyPrep's New Chatbot
Manage Upcoming Deadlines
Learners don't need to stress about course deadlines. All courses they are enrolled in with an upcoming due date will be displayed when they click on this option. Clicking on the course name will take the learner directly to that course where they can finish it before the expiry date.
Manage Upcoming ILTs
With instructor-led training, you want to ensure your learners don't miss it. The chatbot will display all upcoming ILT sessions and their date and time with a link to the course so users have no excuses to miss a class.
By clicking on the ILT link, learners will be taken to the ILT module where they can view more details about the ILT. There will also be a start button to launch the virtual session if there is one present.
Recommended Learning
A unique feature of SkyPrep's chatbot is the ability to suggest courses and learning paths for learners to build new skills or improve on the ones they need help with. Users can request skills or competencies they would like to work on. Once they select the skill or competency, the chatbot will find courses or learning paths that contain those qualifications. 
All the courses and learning paths you can acquire a specific skill from will be shown as well as how many points you can earn by completing the training activity. To obtain a competency, a list of skills and the number of points that are required will be shown.
Platform Wide Search
Searching for training items in SkyPrep is a breeze. Users can search for Courses, Learning Paths, Resources, and Modules by typing in their search query in the chatbot. Clicking on the name of the item you're looking for will instantly bring you to it.
Customize Your Chatbot
You can change the image and name that is displayed at the top to have your chatbot match with your organization's branding. 
Request a demo to learn more about SkyPrep's AI-Like Chatbot
---