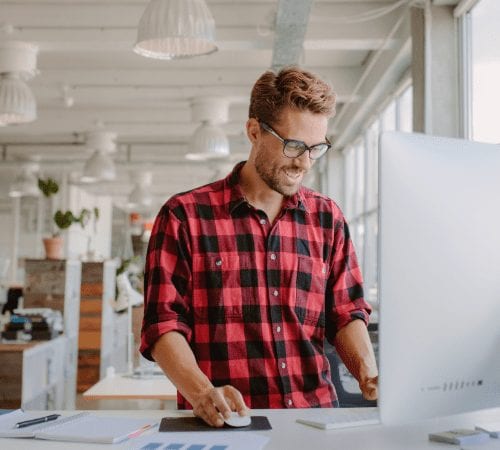 How to Improve On-the-Job Training With an LMS
When job-specific skills are in short supply, producing a qualified and specialized team can only be achieved through proper on-the-job training.
The skill gap in today's North American workforce is a real problem. A study conducted by CareerBuilder shows that not enough skilled workers are available to fill positions without training. Yet, due to time and financial constraints many employers opt to keep employee training at a minimal, if not non-existent level. The result? Unengaged and underperforming employees.
What is on-the-job training and why should it be part of your training curriculum?
On-the-job training (OJT) is a hands-on training approach conducted at the place of work. Throughout the duration of the training, employees have the opportunity to experience live, and familiarize themselves with the environment they will be working in. It can consist of learning how to operate machinery, using tools, or role-playing real life scenarios. Conducting the training at the job location ( as opposed to in-class as done traditionally) creates a stress-free environment for new employees and simplifies the process of adapting to a new role.
Benefits of on-the-job training
It's no secret: employee engagement almost always results in a superior work performance (sometimes as high as 200 times the one resulted from organizations with unengaged workers). A good on-the-job training program will provide your employees with the confidence and engagement they need to enhance their productivity. It will eliminate the anxiety of being placed in circumstances they aren't prepared for and as a result, it will improve the quality of their output.
Use an LMS to improve on-the-job training
Creating a successful training program requires a series of complex moving parts. Content creation is one of the biggest ones. Engaging content delivery is another, equally as substantial.  Whether the individuals you're training are new to the organization or switching roles internally, an adaptable Learning Management System like Skyprep will make the transition smoother and keep your new trainees on the right track. Let's take a look at a few training details that can be improved with the use of an LMS:
Creating "curriculum" training paths to ensure your trainees are navigating the right content
Ensuring each and every employee is completely trained for their new job responsibility is vital to generating a high performing workforce. Unfortunately when training multiple individuals simultaneously, losing the trail of what work has been assigned and where in the completion stage trainees are, happens more often than desired. An approach where training activities are placed and assigned into "packages" to be completed is ideal.
How an LMS Can Help:
An LMS makes it easy to put numerous training activities into "bundles" that can be allocated again and again. Once you have created one of these bundles—incorporating all activities essential to your training program —you can allocate them on demand to different individuals who will require the same training. This eliminates the need to recreate and manually re-allocate training to any future employees.
Performing a Gap Analysis to Determine Missing Knowledge and Skills
Gap analysis refers to the assessment of your employees' skills and capabilities in contrast to the requirements and expectations of their new role. In order to truly determine an accurate skills gap, you need to review your employees' previous activities, training and achievements. Most organizations do not have a proper system for capturing this information and as a result, employees receive training based on their own subjective feedback.
This can drive separate but equally counterproductive outcomes: your employees will either misunderstand what is expected of them and will have to take training they have taken before, making it redundant or, your employees will miss out on training as a result of their minimized perception of their skills gap.
In both cases, time and resources are wasted:  either by offering your employees training they don't need or realizing more training is needed, too late.  
How an LMS Can Help:
An LMS helps you keep track of all the training activities your employees complete. Additionally, it will give you the ease to run reports that recognize any worker's performance gap and whether or not your workers are qualified for any positions or designations.
Assigning Different Types of Training to Create a Blended Learning Solution
Although there are various on-the-job training courses that rely exclusively on having a less-experienced worker follow a more experienced one, there are numerous advantages to assigning training in different formats such as instructor-led classroom training, written documents, online eLearning courses, videos, online quizzes, and in-the-field assessments that verify the worker's ability to perform tasks.
How an LMS Can Help:
An LMS allows you to work with and deliver training in a variety of formats. This includes documents (such as SOPs, Excel spreadsheets, PowerPoints, photos, and even recorded videos) saved on your network or in SharePoint. It could also comprise of computer-based training (CBTs) with multimedia. Your LMS also gives you the capability to generate quizzes on the spot. It lets you plan and allot instructor-led training in a classroom situation and gives you the tools you need for assessing a worker's performance of particular tasks.
Giving Credit When Credit is Due
Giving your employees due to recognition for completing their assigned training fosters an environment of engaged and efficient learning. Ideally, the recognition is awarded with ease, without the need to manually fill a variety of forms and certificates that need to be awarded in person and saved in multiple databases.
How an LMS Can Help:
If manual certificate awarding is vital in your training process, an LMS can assist in simplifying the process. That is usually not the case, however. Giving recognition to your trainees for training tasks like completing modules, passing quizzes, reading documents and any other activities that deserve praise can be time-consuming. An LMS will automate this process and will give your trainees the recognition they deserve based on their performance.
Final Thoughts
If it's not already, an on-the-job training program should be a must-have in your organizational learning and development. It will create knowledgeable and engaged employees equipped to produce superior results with ease. And an LMS will make the process exponentially easier.
---