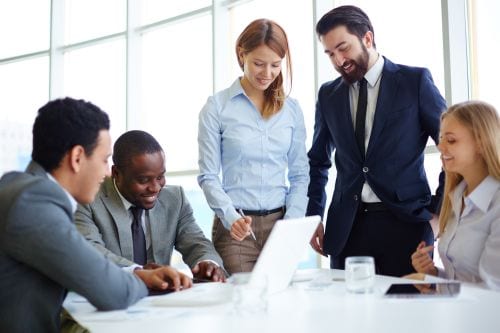 5 Apps to Help Your Creative Teams Keep Track of Their Ideas
Collaborative, creative teams work best when they have the tools to capture their ideas, solutions and innovation as they occur.
Like everything else in the modern workplace, there are some great mobile apps for that.
Just about every productivity app has some means of recording ideas and insights, some are much more adaptable to capturing rapid-fire thinking in note-form that can be easily organized and accessed at a later date.
Traditionally this field has been dominated by Evernote and Microsoft's OneNote.
Evernote promises it will help you "remember everything" and in most cases, it lives up to its word. Even the basic free membership lets you share and discuss notes, clip web pages and images and allows you to add a password lock on your mobile apps. Then there's the Plus category for $34.00 a year. It lets you upload 1 GB of new material a month, compared to the 60 MB allowed with the free membership. For the pro who needs to keep a lot of projects going at once and thinks constantly of new approaches, there's the 10 GB membership for $69.99.
With Evernote, you can create project to-do lists, put down reminders, snap pictures of a concept or sketch and all levels offer an amazing search engine.
Microsoft's OneNote has a lot of great features to do the same basic things as well. You can type, write or draw with the feeling of pen to paper. You can clip from the web pages and freely share notes and concepts with co-workers. It is free and its maximum file upload size is 100 MB. Free users received a total of 5 GB of space while an Office 365 Personal account is an investment of $6.99 per month.
Besides these two stalwarts, there are some other apps with great features for your creative team. One of these is Zoho Notebook. It is totally free for users but its downside currently is that it has only mobile apps, no desktop, but that is in the process of being changed. You get unlimited storage with 50 MB the limit on maximum file upload size.
Another great tool is BoostHQ. BoostHQ allows you to share any file, link, video or thoughts into channels where you can then invite team members. It's available on both mobile and web and also includes a Chrome Browser extension. BoostHQ is perfect for collaborating and sharing ideas with your team members. It's effective and efficient at sharing and allows you to keep all of your content organized.
Another very basic mobile app that is perfect for note-taking is Simplenote. It is free and you can store as much as you want but all you can save is text. However, as a plus, your notes do stay updates across all your devices and it has good and easy-to-use searching tools. You can post some instructions and share lists or publish your insight.
As a real plus, your notes are backed up when you change them. All you have to do is drag the version slider to go back in time.
Google Keep has come a long way from its early introduction as a yellow sticky note app and it is getting more and more respect. For example, the website ComputerWorld recently referred to it as "probably the best Google service that most people don't use." It has an optical character recognition (OCR) feature meaning that you can snap pictures of text and save it. It also has a Web clipper but it does not save the actual contents of the website, just the URL and title.
Google Keep integrates with Chrome, Gmail, Calendar, Photos, Drive, Docs, Google Now, Google Assistant and Google Time. It is free and constantly changing and upgrading. You do need a Google account to access it though.
Regardless of which app you choose, it is important to ensure that all team members get on board with it at the same time. Schedule a training demonstration and make sure everyone is comfortable with it. Do some test exercises to ensure the communications are flowing.
---