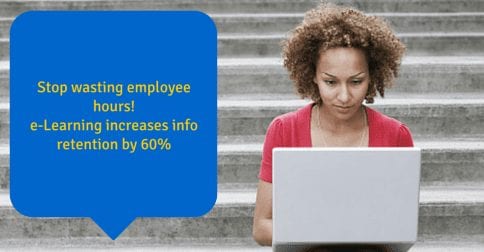 Stop Wasting Your Employees' Time! e-Learning Increases Info Retention by 60%
Most business owners don't realize how little employees retain from traditional or instructor-led training. Or they don't see a better way.
Fortunately for companies of any size, there is a better way: e-learning tools for employee training. In fact, The Research Institute of America recently stated that e-Learning increases information retention rates by up to 60%.
Why e-Learning Works Better
e-learning allows your employees to learn online, on their own schedule. This removes so many of the barriers that get between them and actually learning something.
These barriers include:
Needlessly long training sessions
Instructors that don't engage them
Low energy from the rest of the group
A feeling that their time can be better spent
You can design an effective learning program for your employees; one that is far more digestible and effective than traditional methods.
How Instructor-Led Training Fails You
Even the most skilled trainer will admit they're constantly competing against the human attention span.  Renowned speaker and coach Sandi Givens described many of her past training experiences as set up to fail.
"Put them in a room for a day, give them a great lunch, add a bit of entertainment and laughter, then inject them with some enthusiasm, motivation. There you go … all fixed.  Rubbish! Humans need time to learn, absorb, consider, reflect and apply new skills."
She added that shorter and more concise training sessions work far better. This is the type of ongoing learning culture you can create with e-Learning.

How You Can Start E-learning with Your Company
If you're reading this article, odds are good you're already aware that your current training system is letting you down and needs to be fixed. That's step 1. Step 2 is finding a system that allows your employees to retain the maximum amount of information.
There are many user-friendly tools on the market that allow you to set up an E-learning website for your employees with minimal effort. You don't need to be a programmer or know any fancy HTML to do it.
One online training tool you may want to try is produced by SkyPrep. One of the best advantages to this software is that you can "try before you buy." SkyPrep offers a FREE 30 day trial, as well as free one-on-one demos to all new users. If you think E-learning would make a great asset to your company, then click here to request a free demo of SkyPrep.
---
One response to "Stop Wasting Your Employees' Time! e-Learning Increases Info Retention by 60%"