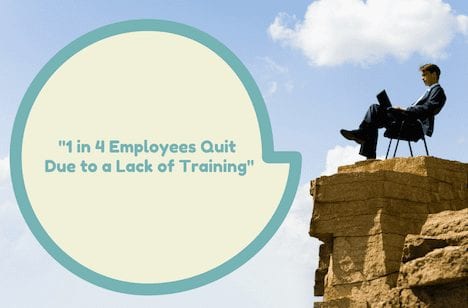 "1 in 4 Employees Quits Due to a Lack of Training" – Here's What You Can Do To Fix It!
Do you wonder why so many of your employees are leaving you for a "better opportunity"?
There are lots of reasons an employee will decide to move on, but one major reason may surprise you. Nearly a quarter of employees quit because they have not received the proper training.
This number is staggering when you consider how this issue is avoidable. But the solution is more than simply providing employees with the tools to do their jobs.  Employee training needs to be delivered in a manner that will be absorbed by employees, and preferably not disruptive to a company's workweek or budget.
Train Your Employees Properly, or They'll Leave
Employees that leave due to a lack of training are doing so for two main reasons:
"I'm frustrated because I don't have the tools to do my job"
"I don't see myself advancing from this role
They typically arrive at this decision quickly – sometimes during the first week or so on the job!
A recent study by IBM revealed that new hires will start planning their exit strategy right away, if they don't get proper training. Only 21% of new hires intend to stay at a company that doesn't train them properly. However, 62% of new hires will commit to the role and company, if they're adequately trained.
"Employees who do not feel they can achieve their career goals at their current organization are 12 times more likely to consider leaving than employees who do feel they can achieve their career goals," said IBM's report, called "The Value of Training."  "Even worse, this number skyrockets to about 30 times for new employees."
How to Keep and Promote Your Superstars with E-Learning
Simplify training and make it more accessible. Use tools like E-learning to ensure that each employee can do their job better today, and make themselves a better candidate come promotion time.
E-learning, with the help of learning management tools, allows employees to train quickly and effectively, outside of the traditional training room or boardroom environment. They can acquire the skills they're looking for on their own time, at their own pace.
 
Online Training for Your Company is Easy to Set Up
The opportunity to create and retain office rock stars exists, for those who have the right tools. Giving your employees E-learning tools does more than help them do their job better – it shows them that you want them to succeed and grow.
While the benefits of online training software are easy to explain, business owners are often hesitant to introduce E-learning because the implementation seems technically daunting.  Fortunately, there are tools that are designed for non-technical users, where courses can be created online in minutes.
For example, SkyPrep provides online training software that can assist business owners in creating customizable courses and quizzes, including detailed reporting on employee results. One of the best advantages to this software is that you can "try before you buy." SkyPrep offers a FREE 30 day trial, as well as free one-on-one demos to all new users. If you think E-learning would make a great asset to your company, then click here to request a free demo of SkyPrep.
---