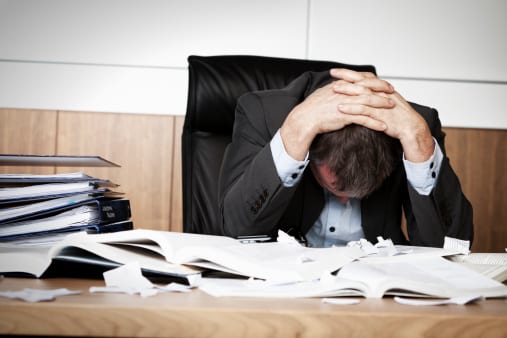 Are Your Employees Heading Towards Burnout?
The global workforce study by Towers Watson has revealed some worrying findings into the mental health of the average worker. In their study of 32,000 employees throughout the world, they discovered that 34% of workers are struggling with excessive pressure in their job. A further 58% revealed that they have been working more hours than normal over the last three years – largely as a result of increased pressure to work longer hours due to the economic downturn. Most of those surveyed did not expect their long working hours to reduce over the next three years.
Long hours culture
It seems that the majority of work-forces are locked into a long hours working culture. Of course, many business leaders may not see the problem with this, as more work means more output and more profits doesn't it? Admittedly, there may be more output, but there is huge inefficiency related to overtime work as studies show that the productivity of employees decreases by half after 8 hours of work. Also, increasing from 40 to 60 hours a week work will only deliver an extra 25% output. As well as this, the research showed that overall productivity declines dramatically if employees work 60 hours a week for more than 4 weeks. So, sustained excessively long hours will make your business more inefficient and eat into profits.
Stressed and burnt out
But, that's not the only issue with a long hours culture. The Tower Watson study showed that employees are becoming extremely stressed as a result of the long hours culture, with 47% of them experiencing unmanageable levels of stress. With stress being one of the biggest causes of long term absence you can expect to see a rise in sickness levels too if your firm operates a long hours culture. And if this continues, this will eventually contribute to employee burnout.
So, how can a firm identify and address employee burnout in their business?
There are two steps to be taken.
The first step is about monitoring; it involves tracking working hours to see if employees are consistently working longer hours. Your business should be tracking sick days and comparing them against industry averages to see if there is a potential issue here. Finally, you should be tracking holiday usage to ensure that people are taking their full holiday allowance. (Holiday is a key way that employees reduce stress and wind down)
The second step is about training your managers to spot these signs of stress and burnout – e.g. excessive sick days, lack of motivation and low morale – and to be able to take corrective action, such as adjusting working hours, encouraging them to work more efficiently, automating tasks, and using enabling technologies etc…. This is a real opportunity for HR and training functions to step in and make a real difference to team morale, motivation, productivity and ultimately the bottom line. And with the ongoing pressure on HR and training to demonstrate the value they add to the business, this is an opportunity not to be missed.
---
One response to "Are Your Employees Heading Towards Burnout?"