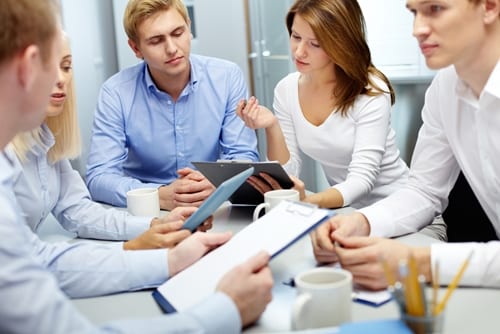 Collaborative Learning Puts Training Into The Hands Of Employees
Employee training is constantly evolving, with management and HR always seeking out more effective methods to cultivate the most efficient and knowledgeable employees. What executives are finding recently, however, is that some training is best left in the hands of the employees.
Collaborative learning is fast becoming a new HR trend. Companies that want to take advantage of this momentum-gaining learning practice should first understand the benefits it can offer, and how it can best be harnessed.
Understanding collaborative learning
Collaborative learning is a fairly broad umbrella that encompasses any form of training in which learners are responsible for working among themselves in small groups to accomplish learning objectives, Business Dictionary reported. The beauty of such an approach is that collaborative learning is a method, not a platform. This means that organizations can modify any of their existing structures to take a more collaborative approach, rather than having to design and implement whole new programs. In fact, collaborative learning dovetails well with the recent surge in eLearning software and online training programs that many businesses have been adopting.
From initial training sessions and employee on-boarding to ongoing learning opportunities and professional development, collaboration in a learning environment is proving to be an effective resource for management and HR alike.
Collaborative benefits
Executives who have been using conventional training methods and classroom learning for years on end may not immediately understand the benefits a more collaborative approach can offer. Michael Moran, CEO of business consulting firm 10Eighty, noted that collaborative learning can have a much broader, balanced positive effect on training efficacy than more individual approaches. Under a social model, each learner's own success is directly dependent on that of co-workers and fellow collaborators, teams learn how to work together more harmoniously to better achieve a common goal.
As 10Eighty wrote on its official site, collaborative learning is best implemented in situations where it can be integrated directly into daily working life, rather than separated out as an isolated training module. Not only can this encourage learners to share responsibility for tasks, but it can also train employees to be adaptive to new and possibly unforeseen situations. Thus, they will be better prepared to face any challenges that arise while on the job. This is a valuable approach from a management perspective as well, as it enables managers to get a better sense of how teams of employees work together in a more true-to-life environment. This can be essential for business objectives such as future planning and determining who the best candidates are for promotions.
---