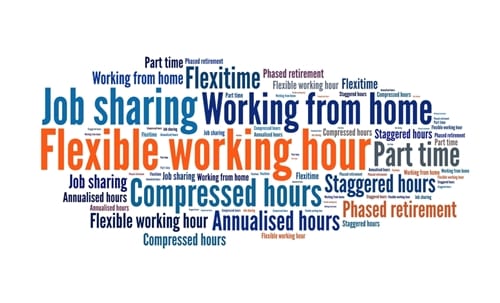 Why Work Flexibility Promotes Business Success
Employers have an immense opportunity to gain a competitive edge when it comes to workplace flexibility. While there are a number of potential benefits to these initiatives, many firms still are failing to offer flexible arrangements for their staff. A new study by the Sloan Center on Aging and Work at Boston College revealed that flexible work options are out of reach for the majority of American workers, and those that are offered are still limited. Additionally, only one in five companies offered more than one option in regard to these programs, even though different employees have varying needs. With the right tools to ensure success, any company can reap a variety of rewards by embracing flexible work arrangements.
Here are some of the ways these initiatives can fuel success:
Attracting more talent
Demanding that your staff is in the office during set hours every day of the work week can seriously cut down on potential candidates. However, when you offer alternate work arrangements, you'll have a larger talent pool to choose from. In fact, a poll conducted by Monster.com determined that schedule flexibility is the top most desirable soft benefit for job seekers. Telework programs can be an especially attractive option. The key to making these initiatives work is having the right technologies and training in place. Elearning software can be used to teach your staff about best practices for working remotely. Additionally, employers should consider implementing a learning management system to test remote staff to track their progress throughout training.
Minimizing turnover
According to a survey by WorldatWork, a significant number of employers that scored themselves as having an "established flexibility culture" reported that workplace flexibility has had a positive or extremely positive impact on engagement (85 percent), motivation (84 percent) and satisfaction (92 percent). Offering flexibility promotes a sense of trust and value among staff, which is likely to make them more motivated and invested in their work. Rose Stanley, WorldatWork practice leader for benefits, work-life, flexibility and recognition, told Bloomberg BNA that flexible schedules can reduce turnover because employees are more likely to stay loyal to a business that allows them control over how, when and where they work.
Cutting costs
The Bureau of National Affairs estimates that over $11 billion is lost annually due to employee turnover, according to Forbes. Since workplace flexibility improves retention rates, businesses can thus save a substantial amount by avoiding lost productivity and replacement costs. Moreover, flexible working policies may reduce the number of sick days that staff members take. Telecommuting programs in particular can also slash spending for staff members in terms of commuting, as well as employers in regard to real estate, utilities and supplies.
---
4 responses to "Why Work Flexibility Promotes Business Success"