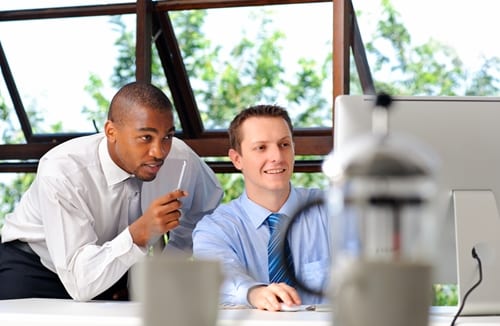 How You Can Benefit From An Employee Mentor Program
Developing effective training programs is of paramount importance for management. Especially in today's work environment where companies are being forced to operate more leanly and efficiently than before, organizations are finding that employees need to have a wider range of skills so that all necessary tasks can be covered, sometimes by fewer people.
Companies have found themselves struggling with traditional training paradigms, as employee engagement remains one of the most coveted metrics HR professionals are chasing. More organizations have started moving away from conventional classroom training in favor of online learning software and even less traditional structures. One such method that has proven effective in numerous cases is mentorship programs, a simple and lo-fi solution that can fill some of the gaps left by previous learning methods.
The engagement problem
In recent years, HR professionals have found that retaining and engaging employees has proven to be one of the industry's largest challenges. As Employment Law Daily reported, engagement was the No. 1-ranking challenge facing the HR industry over the course of the next three to five years. According to the source, 69 percent of companies surveyed prioritized engagement as the main focus. Rather than look strictly at performance, 71 percent of companies noted that they relied on measures such as exit interviews to gauge engagement in staff, and 65 percent relied on retention rate as a direct indication of engagement.
This means that not only is it important to attract talent to your organization, but to foster an environment in which these top performers can flourish and feel connected to their work as well. Recognizing what motivates employees is key to accomplishing this goal.
What are the motivators?
Conventional wisdom states that offering incentive in the form of monetary compensation should be a way to keep employees working hard. However, new insight has revealed that not only are incentives and reward programs not the most effective ways of engaging employees, they can also be counterproductive. Of course, organizations need to provide this, but as Forbes pointed out, the important thing is to use compensation as a way to make workers feel secure, rather than to motivate them to perform more. In other words, employees want to be paid enough to not have to worry about money, but if additional pay is dangled as a carrot on a stick to drive above-and-beyond performance, management shouldn't expect too much.
Instead, motivated employees are those that feel they have the freedom to be autonomous and creative in their approach to their job tasks and problem solving. An environment in which workers have the freedom and support to develop their career along their desired path is one to which staff will feel most connected. This is where employers will see the best results.
Mentorship is the key
One simple way to achieve this environment through corporate training is by implementing a mentor program in addition to or even in lieu of a conventional training system. A whitepaper published by Chronus outlined some of the benefits of a mentor program  – and they extend beyond the trainee in question. In fact, mentor programs represent one of the most efficient and holistically beneficial training systems a company can implement.
The study cited technology company Sun Microsystems as an example, noting that those who participated in a mentor program performed better and advanced faster than those that didn't – 25 percent of employees who were mentored received promotions, compared to only 5 percent of those who were not. Moreover, the company saw a retention rate of 72 percent among mentees, compared to the 49 percent of non-mentored employees who were retained.
Encouragingly, those who served as mentors received just as much benefit as their proteges. These employees were promoted six times as often, and enjoyed a 69 percent retention rate.
---
3 responses to "How You Can Benefit From An Employee Mentor Program"