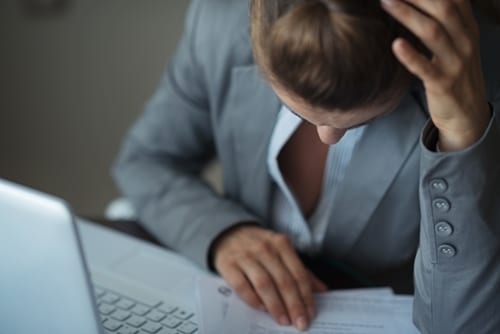 Stress Awareness Month: Strategies for Employers
A certain level of pressure is to be expected at any job – and in fact, can be motivating for employees. However, when stress gets out of hand, staff members may feel so overwhelmed that their performance suffers, or worse, they feel compelled to take their talents elsewhere. In honor of Stress Awareness Month, Keas recently released the results of a survey that found 4 in 10 employees experience above average levels of job-related stress. This is a major issue as Keas determined that more than 3 in 4 employees feel disengaged or unenthusiastic about their job as a result of stress, and another 24 percent say that work is the reason they're losing sleep at night.
It's crucial to ensure that workers are healthy and happy to fuel retention. This will require that businesses pay attention to stress levels and aim to keep them at a minimum. While many firms may fear that reducing stress means compromising productivity, the truth is that it's possible to maintain an atmosphere of high expectations but reasonable pressure.
So how can employers help to keep potentially anxiety-producing scenarios from keeping staff members up at night?
Allow for flexibility
According to TLNT, control is one of the top factors in whether an employee feels excited by a challenge or overwhelmed by it. So it's imperative that staff members feel they have a say in how, when and where they do their work. This could mean allowing workers to work from home one day a week if it proves to make their lives easier, or giving them a more flexible schedule so that they can accommodate certain responsibilities more easily. As long as businesses have strong training programs in place, efforts relating to telework and flexwork can be immensely successful.
Fine-tune the onboarding process
It's critical that the orientation program for new staff members prepares them well for their roles – otherwise they may have an unrealistic idea regarding work expectations, which could lead to rapid burnout. To minimize turnover caused by stress, TLNT advised looking for ways to improve the onboarding process so that new hires are well aware of the demands related to their positions. Employers should provide adequate resources from the very beginning so that if staff members don't know how to approach something, they are at least able to find the information they need to figure it out. Companies can create online courses on a number of subjects to ensure workers are well-equipped to tackle certain tasks, and then track their progress within a learning management system . That way, it's easy for management to determine whether certain employees need some extra training time or attention.
Schedule mentoring sessions
One strategy that Inc. magazine argued can prove effective is mentoring. These initiatives can forge stronger relationships between employees and also promote collaboration, which can help staff members to feel less alone when the pressure is on. The magazine recommended encouraging one-on-one lunches between senior and younger workers and additionally, scheduling presentations so that higher level employees can share their expertise on a particular subject. Mentoring efforts pay off in a big way because they allow staff to learn from each other while also gaining a certain level of respect and trust that is essential during stressful times.
Make meetings mobile
Exercise is a proven stress reliever, and while employers may not be able to control how much their staff members hit the gym, there are other ways to get them moving. Property Casualty 360 suggested scheduling 15-minute walking breaks during long meetings, which can also help to break any tension that may have arisen during a discussion. The news source also cited an example of a company that offered staff the chance to download reminders on their computers to take stretch breaks. Employers can even promote walking meetings, which allow participants to stretch their legs while also being productive.
---
3 responses to "Stress Awareness Month: Strategies for Employers"