5 Great Screencasting Tools for Training
When it comes to Screencasting, there are plenty of options out there from free to premium services.  How do you choose which one is right for you? There's really no right or wrong answer, but here are five of our favorite solutions.
Adobe Captivate


Adobe is recognized for its quality products and Captivate is no exception. As a fully-fledged authoring software, it is arguably our favorite screencasting tool backed by a company that releases new versions yearly. That said, with Adobe you almost always pay a premium, and Captivate brings with it a hefty price tag. Nevertheless, easy to navigate with all of the features you're looking for, Adobe Captivate might be the best all-around solution if cost isn't an issue.
Camtasia Studio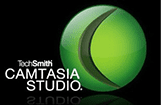 Camtasia is one of the most commonly used screencasting tools and for good reason – it's a comprehensive solution that is now on its 8th iteration. With its slick and intuitive interface, it is probably the easiest to pick up and learn right away for beginner and advanced users alike. It's got all of the features you would expect, and some unique ones as well.  The quizzing feature, which allows users to give instant feedback on videos, is a great way to interact with video viewers. At $299, some feel the price tag is steep, but Camtasia Studio ensures you've got everything you need to generate professional quality videos.
CamStudio


A fantastic, free solution that has all the necessities, including capturing a particular area of your screen and adjustable frame rates. Many will find that CamStudio provides more than enough tools to pass on expensive paid alternatives. Output format is only available in AVI, which can be converted to Flash Video. Some will find this limitation to be an issue, but if AVI is good enough for you, CamStudio is a great option.
ScreenFlow


If you're a Mac user, ScreenFlow might be the solution you're looking for. At $99, it is a relatively affordable choice that results in top-notch video quality. In addition to adding your voice to the on-screen recordings, you can video record yourself so that your viewers are able to see you accompanying the screencast. These are actually saved as separate files, giving you the flexibility to manage the audio/video and screencast individually.
Jing


Designed for compact videos, Jing is a simple to use screen-recorder that limits videos to 5 minutes in length. Developed by TechSmith, the same team behind Camtasia studio, Jing is a free-to-download software that allows you to upload and share your videos easily. If your videos are relatively short, and you're looking for some something simple and basic, Jing will fit your needs.
---