SkyPrep at DevLearn 2012 (Booth 620)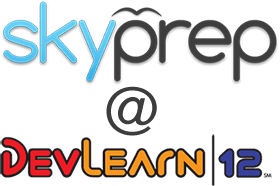 We're excited to announce that SkyPrep will be an exhibitor at this year's DevLearn 2012 in Las Vegas, hosted at the Aria Hotel. We invite you to come check us out at Booth 620 on Oct.31 and Nov.1 for all things SkyPrep!
This will be our first ELearning Guild conference, so we're dying to get this thing kicked off. Those of you who'll be attending the conference, swing by to see what we've got in store.
Hope to see you all in Vegas!
---
One response to "SkyPrep at DevLearn 2012 (Booth 620)"