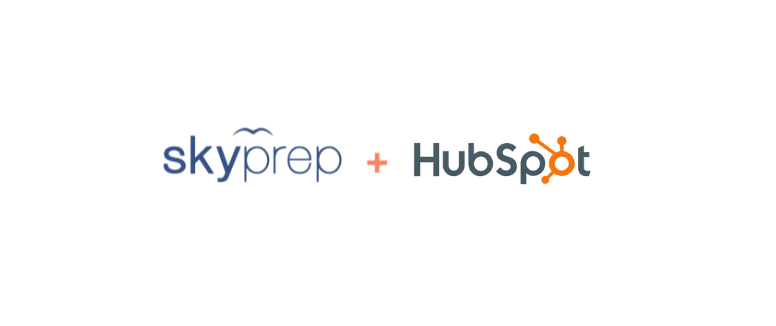 SkyPrep + HubSpot: Seamlessly Integrate Your CRM with Your LMS
We are excited to announce the integration of SkyPrep + HubSpot. HubSpot is a cloud-based software platform for inbound marketing, sales, and customer service. It allows businesses to manage their entire customer journey from attracting people to their website, converting them into leads, closing deals, and retaining customers after the sale. The platform includes tools for marketing automation, social media publishing, content management, and more.
SkyPrep + HubSpot : How It Works
The integration is available on the Integrations page on your SkyPrep platform. For a step-by-step guide on adding HubSpot to your SkyPrep LMS platform, click here.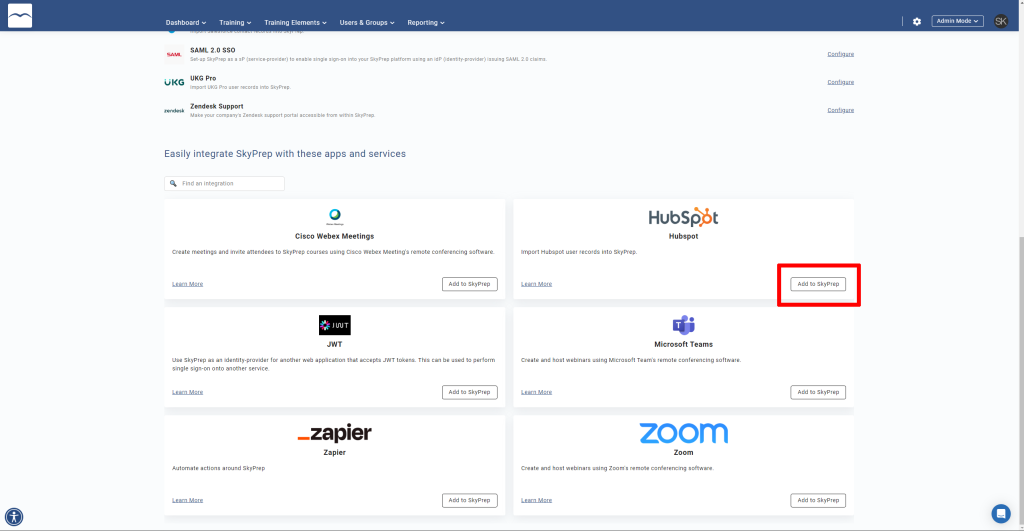 HubSpot offers a range of benefits for organizations of all sizes. These benefits include:
1. Expanded Reach
HubSpot integrates with hundreds of other apps, allowing marketers to reach out to a wider audience. Instead of manually entering contact and lead information, it's possible for marketing teams to connect their HubSpot accounts with tools such as Salesforce, WordPress, Joomla, Intercom, and Vero. This allows for a comprehensive view of customers, and makes it easier to get maximum reach with campaigns and content. Additionally, HubSpot also supports a number of marketing channels, including email, social media, and paid search, so that marketers can maximize their campaigns from a single platform.
2. Automated Lead Tracking
HubSpot's automated lead tracking system allows marketers to get detailed insights and analytics on their leads. It automatically collects, stores, and manages customer contact information, and provides visibility into a lead's journey. This makes it easier for marketers to measure the success of their campaigns and better understand their audience. With this data, you can adjust your strategy and increase opportunities for success. HubSpot also allows you to personalize your message, ensuring the best results.
3. Enhanced Website Usability
Enhanced website usability is one of the major benefits offered by HubSpot. By utilizing it, you can easily build and track visitors' website experience. This involves tracking traffic, building better landing pages for higher conversions, and understanding website analytics. HubSpot can track the user's journey and engagement from the moment a visitor reaches your website so that you can know how to better interact and engage your customers. The analytics you get from this will drive better decisions to improve the overall website experience.
4. Content Optimization
Content optimization on HubSpot involves improving the quality of content to rank higher on search engine result pages, building an audience, engaging customers, and driving traffic. It includes writing engaging content focusing on specific keywords, optimizing existing content to reduce bounce rate and increase engagement, researching relevant topics, and using different forms of media for more effective distribution. It also helps to measure its performance to make improvements. Additionally, HubSpot's content optimization tools make it easy to create content that delivers performance results quickly.
5. Effective Email Marketing
HubSpot's software makes it easy to create effective and automated email campaigns with powerful features like personalization, customization, segmentation, and A/B testing. It also aids with tracking results such as open, click-through rates, user engagement, email deliverability, and other metrics. Automated workflows can also be used to plan, create, send, and monitor campaigns more efficiently and get better results.
6. Enhanced Customer Service
Companies can create tailored customer service strategies that cater to their audience's needs. These strategies can include setting up personalized response templates, automating ticket workflows, and providing customers with real-time support. By investing in ways to give customers quick and personalized responses, companies can build trust and strengthen relationships, ultimately leading to long-term customer retention. With HubSpot, companies can also monitor customer feedback to continually improve customer service and develop better support services.
The SkyPrep + HubSpot Integration enables organizations to dramatically improve the user experience while streamlining learning and development operations. Users will benefit from having a central point for where online courses are managed and stored, as well as improved visibility into performance data. By combining the platforms' comprehensive features, SkyPrep and HubSpot are the perfect partners in helping organizations to make the most of their online training resources, while successfully reaching their audience.
---