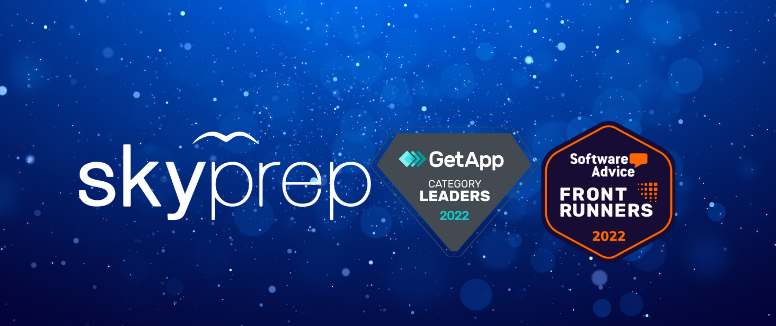 SkyPrep Recognized as Top Training Software by Software Advice
We are thrilled to announce that we have been recognized as a Top Training Software solution by Software Advice in their frontrunners flagship report. This report evaluates verified end-user reviews, positioning the top scoring products based on their usability and customer satisfaction ratings for small businesses. (Learn more about the methodology here)
2022 FrontRunner in Training Software Category
SkyPrep has an incredible overall rating of 4.7 (out of 5). A huge thank you to all our users who love us so much! It would not have been possible without your constant support.
We have also been featured as a Category Leader in the Top Training Software category by GetApp. This is largely driven by continued trust built in by our amazing users in our product and our team. Thank you!
Here's what our users have to say about us:
"Overall SkyPrep is an easy tool to work with and navigate. It provides an ease of conducting training alongside a great team of customer support for any issue resolution or system enhancements."
-Veronica
[Source: Software Advice]
"This system is very easy to implement and maintain as an admin. Furthermore, it is very user-friendly from an admin and user perspective. Their customer service is amazing too as they have a monthly check-in where they give you information on updates and are there to answer any questions – at no extra cost."
-Sara S.
[Source: GetApp]
About Software Advice
Software Advice is the leading online service for businesses of all sizes navigating the software selection process providing free, personalized software recommendations that meet their business needs. Software Advice also features objective research by industry experts and reviews from validated users, saving buyers time and resources. Software Advice is a Gartner company. For more information, visit https://www.softwareadvice.com/
About SkyPrep
SkyPrep LMS is an award-winning, intuitive industry leader. It enables you to deliver effective internal training, onboarding, compliance training, and more to your employees, partners, and customers. Utilized by over 500 organizations in various industries globally, it is a true testament to our user-friendly interface, simple yet innovative features, affordable pricing, and exceptional customer support. We are committed to providing the best online training platform solutions in the market, and take pride in helping empower your employees with the knowledge and skills they need to continue making your organization a success.
Want to review SkyPrep? Click here.
---
One response to "SkyPrep Recognized as Top Training Software by Software Advice"