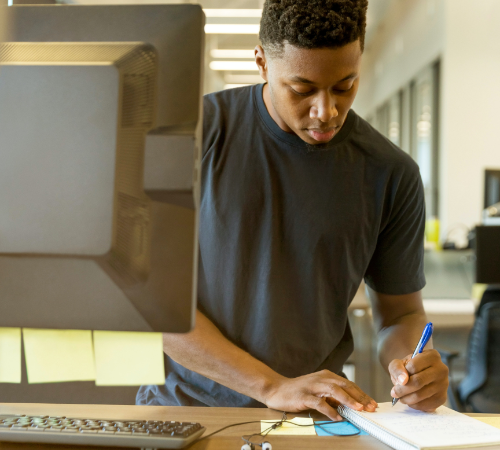 How an LMS Drives and Supports Employee Skill Development
After hiring new employees, most organizations welcome them with onboarding training. The idea of this training is to quickly help them learn what they need to know. This onboarding targeted training is crucial to get them acquainted with their new role.
Unfortunately, after onboarding has commenced, many organizations only offer limited employee skill and career development training. Employees want to work for a company that understands their unique skill set and interests.
With a learning management system (LMS) in your learning and development (L&D) teams' arsenal, you can offer your workforce continuous learning and help maintain that new job enthusiasm. Here are some tips on how to utilize your eLearning software to keep your employees on a steady track to success.
1) Train and retain employees with continuous eLearning
Employees whose companies invest in them are more likely to stay. It benefits the organization as a whole to create a strong culture of learning. You will build an even more talented and efficient workforce, and in the long run, you will help reduce employee turnover. Your learning management system will allow you to build personalized learning paths within your LMS so you can reinforce enthusiasm for learning and extend it over time.
Utilize your learning management system to close skill gaps and appeal to different learning preferences. With gained knowledge employees will become resourceful and increase their efficiency and capabilities at work.
2) Map your employee's learning journey
Considering a personal approach when creating learning paths and tracking progress fosters professional growth in two ways. For one, you can share the data you have collected with your learning and development (L&D) administrators so they can create opportunities for your employees within the online training software, to match their ambitions.
Secondly, a more personalized approach will empower your employees to take more control of their careers and guide them on how to grow within the organization. Ultimately, partnering with a learning management system that is mobile-ready further fuels personalization as it enables employees to control where and when they learn.
 A learning management system can help learners and managers focus on employee skill development through:
Training in new tools that enable more efficient performance.
Supporting learners with projects or cross-training them for other roles in the organization.
Addressing and bridging knowledge gaps to help move learners along their desired career paths.
Providing leadership training for employees moving into executive roles.
3) Your LMS is your gateway to targeted training
Your learning management system is the center for employee skill and career development. It centralizes in-house material and external content resources that employees can access from anywhere, at any given time. Administrators can customize their LMS dashboards and this feature enables them to gather and analyze data about employees' performance and progress.
After collecting this data your managers can now create reports aligned with business needs, easily. An online learning management system makes it really easy to deliver content to your employees that is tailored based on their group, role, or department.
Your learning management system should also integrate with a vast range of networking and conferencing tools that promote effortless collaboration. Knowledge sharing platforms such as BoostHQ, encourage employees to share and discuss resources they have discovered with their peers.
As your employees continue to hone their skills, their overall performance will improve and your business will undoubtedly thrive. Nurturing a learning culture by utilizing your learning management system is the best way to invest in the future of your business.
4) Implement project-based skill progression
Amidst COVID-19 and as we move into the future of the workplace, the emphasis on skill development is critical in shaping employees' career development goals. If your managers are dubious with their coaching techniques, it leaves your employees and your business at a major disadvantage.
This is a crucial time for employees to really invest time into rethinking how their employees work and learn. With the incorporation of project-based learning, employees can master skills while working through the project itself. They will be able to encounter real-life experiences such as success, adaptation, failure, innovation, and communication- all of which are necessary feats to progressing and achieving growth in the modern-day workplace. 
Project-based learning develops creativity, flexibility, and innovation. It gives employees the space to suggest unique and uncommon solutions to challenges, setbacks, and risks. It really helps them think outside of the box, in ways they typically would not with standardized training. Reinforce the skill development needed to succeed in project-based learning via resources within your learning management system.
Your learning management system should have courses designed for just this purpose. If your L&D team may lack the time to create such online training courses, your LMS provider can refer you to a host of readily available courses via content libraries. This feature enables you to equip your employees with the skills and abilities necessary for a disruptable, ever-changing workplace while empowering your business- simultaneously. 
Understanding how to drive and support employee skill development is key to an effective learning strategy. Utilizing an LMS is an effective way to align employee skills with your business needs. Whether you are implementing a new LMS or want to update your current platform, SkyPrep LMS can benefit your organization.
 Request a call and one of our eLearning specialists will contact you to discuss your employee training needs shortly.
---