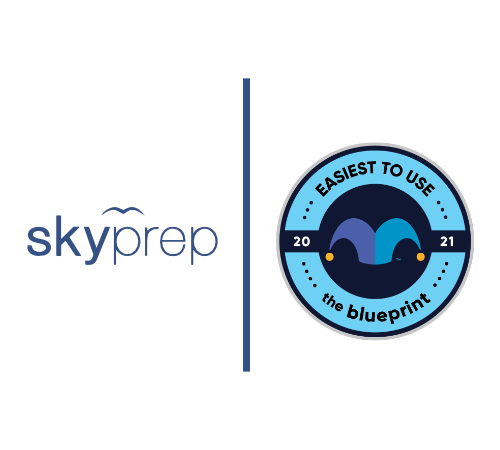 The Blueprint Announces SkyPrep as the Easiest-To-Use LMS for 2021
We're excited to share that SkyPrep has made it to The Blueprint's list as the easiest-to-use learning management system (LMS) solution for 2021.

What is The Blueprint?
The Blueprint is a Motley Fool service that rates and reviews software solutions for small business owners. It offers unbiased business and technical expertise for sole proprietors and SMBs. The Blueprint simplifies complex business topics, making them easy to understand for emerging entrepreneurs and seasoned business owners.
Whether you're looking to increase sales through a new marketing channel, update accounting software, or manage an intricate project, The Blueprint will answer those questions in the most thorough, accessible, and engaging way.
SkyPrep is One of the Best LMS Solutions for 2021
The Blueprint recently released its list of the best LMS solutions for 2021 and SkyPrep is one of their top picks. We're announced as the easiest-to-use LMS solution for this year, which is a testament to our user-friendly interface, simple yet innovative features, affordable pricing, and exceptional customer support.
The winners for each category were chosen by The Blueprint's team of software experts who compiled, tested, rated, and curated in-depth reviews of the top LMS solutions for small to mid-sized businesses. All LMS solutions were evaluated and compared based on the following criteria:
Ease of use
Features
Pricing
Customer support
According to Craig Borowski, managing editor at The Blueprint, "For those that are just starting, or those that are looking to improve current operations, our experts have compiled a short list of the top choices for LMS solutions that can fit any business's need. We evaluated many solutions on the market to determine the best-of-the-best, and we're pleased to acknowledge Skyprep as one of our top picks."
"We strongly believe in transparency and objectivity with our recommendations. If the product does not meet our standards, we simply won't recommend it on The Blueprint. Each of the award winners excelled in delivering value to business owners," he further added.
SkyPrep was acknowledged for its easy setup and use, support for mobile and offline learning, and transparent, flexible pricing. "In the increasingly crowded LMS training industry, SkyPrep is setting new standards in user-friendliness. Its clean, intuitive user interface is a pleasure to use and can be customized to suit your brand, even with the Core (basic) package. The software does everything you need to train employees, educate customers, or sell online courses. Their interface that does the heavy lifting for you," writes The Blueprint's editorial team.
To learn more about SkyPrep request a call and one of our specialists will contact you shortly.
---