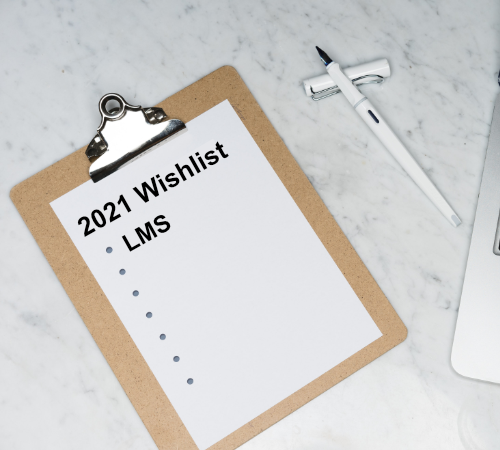 Your 2021 Wishlist – Unwrap the LMS You Want
I think we've all been there. That moment when a family member presents you with a beautifully wrapped gift. You're so excited and hoping it's that new sweater you wished for. You unwrap it, only to realize it's another couple pairs of socks, and not what you'd hoped for. We don't want the same thing to happen to you when selecting a new learning management system. If an LMS is on your wishlist for the New Year, remember to be specific on what you want.
There are an overwhelming number of options with plenty to consider. A new system might come with a price tag, but keep in mind a lot of resources and time-at minimum also goes into training both your administrators and learners. In some cases this can often lead to month-long transition periods. To ensure you decide what's the best fit for your organization and to minimize your time spent getting you up and running, we've compiled some questions to keep in mind when defining your 2021 LMS wishlist.
1) When will I need to be up and running?
We know time is money. Especially when it comes to technology implementations. A major factor to consider is figuring out what the time frame for introducing a new platform looks like, and the associated costs. If you want to ensure your LMS is rolled out in 2021, you need to analyze your existing Learning and Development(L&D) department, and how the LMS would fit into it. Pick an LMS that has the ability to integrate seamlessly into your familiar environment. That way you can save time on setting up the system. You will also be able to decrease the time spent training administrators and learners.
2) What is my budget and how much does it cost to scale?
Try to figure out a realistic budget for your new LMS. This will help you eliminate providers and narrow down your search. Your time is valuable, don't waste it on looking at solutions that are out of your price range. Be aware that different providers offer different pricing solutions. The most expensive solution might not be the best fit for you, but the more cost-effective one may be too good to be true! You want to pay for quality.
An LMS needs to be scalable and adaptable to a changing business environment. Onboarding and Reboarding must happen quickly and efficiently, processes should be automated, and the LMS should be the center of knowledge and training for your employees. Also, factor in that you may want to add users in the future. Your LMS should be able to evolve to match company growth and support in reaching business goals.
3) How much support will I need?
In order to keep up with the changing work environment, it seems technology constantly needs to be updated. Does the provider offer a designated support team you can easily access, to help you troubleshoot issues? What are response times? Does the provider have a designated customer team to support your specific needs? This will help determine what resources you have available and give you a realistic overview on what to expect.
4) Don't change what's currently working
Compile a list of the applications already being used with your organization or department. Consider which of these you'll need to integrate into your LMS. For example, if you employees are using Office 365, having the option to integrate your LMS with this platform is very beneficial. The same practice should apply for existing training content. Unfortunately not all LMSs offer the same flexibility with content integration. If there is material you have already created in-house, or purchased from a third party, make sure you can easily move it all over into your new learning space.
5) What are my customization options?
Find a platform that provides a solution where it's easy to add logos, your own colour scheme, and whatever other branding and design elements you may need to create the look and feel that best matches your business. Select a system that is user-friendly and has the exact functionality you need.
6) Will my employees be working remotely?
In a reality where employees are predominantly working from home, being able to access your LMS from any location, will be of the essence. Ensure you have this flexibility with your learning management system. To ensure a successful LMS integration, your platform should be able to support them from wherever, or whenever they need it.
7) Do I want learning to be social?
Do you want learners to have the option to communicate with instructors or other learners? For example with collaboration tools such as G Suite, Zoom, Facebook, Microsoft Teams. Consider which communicative form will best support the learning process in your organization.
When implementing a new LMS, there are many factors to consider. SkyPrep understands your existing environment and where you want to be in the future. To discuss your online training needs request a call and speak with one of our eLearning specialists today!
---