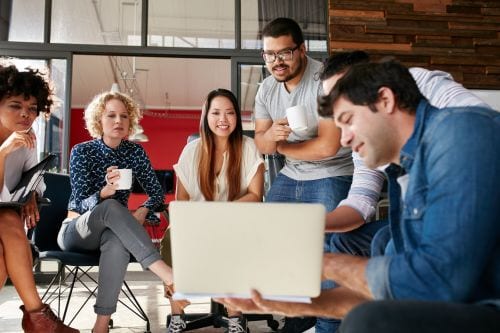 4 Ways to Improve Teamwork & Collaboration
When you have to bring together team members who work in virtual offices away from your main center of operations, you need to focus attention on the efficiency of the tools provided if your teams are going to communicate effectively and produce optimally.
Here are four things your team needs to be able to do to progress to a higher level of output, and how to accomplish them.
First, you need to be able to meet. 
The single most important tool is to create a way where these far away workers can still be regular participants in important meetings with other team members.
There are a host of web conferencing apps on the market that address this challenge.
For businesses that have smaller budgets, look into BoostHQ. It's a great place to start and can be beneficial for your small or even large company.
Their product is quite impressive. It includes support for desktop and mobile application sharing and even has a Chrome Browser Extension.
BoostHQ becomes your team's virtual workplace. A workplace for your team's documents, spreadsheets, videos, links, checklists, polls and discussions. This makes knowledge sharing and communication in teams easy and powerful. You can curate any type of content, share it, and ignite real-time discussion. Employees no longer need to be in the same room in order to spark knowledge and innovation.
BoostHQ also allows you to comment on content pieces or have a chat with individual team members in order to quickly get your message across even if you're miles away from each other.
Best part is that setup is a breeze. You just download the mobile app or go to their website and create an account, invite your team members to join you, and your workplace can go ahead full speed almost immediately.
Second, you need to have sufficient cloud storage to keep documents safe and secure. 
The way, wherever employees are, they can gain access to the data that they need to complete their projects.
It is a good business practice to encourage employees handling sensitive material or newly completed reports not to leave them unprotected on their computers. It will only take a second for them to drag and drop these files into the cloud. That way if they should have a computer technical issue or it got stolen, all the backup files would be accessible.
Using cloud storage also saves your company from the challenge of having to maintain in-house servers for those employees who work within the same physical space.
Third, your team members need to collaborate. 
That means that several members may be simultaneously working on the same document and brainstorming about presentations. For example, your writer and your designer may be working together on a tight deadline to produce slideshows or a document requiring illustrations.
Collaboration apps, like BoostHQ, are vital in these cases.
Google also offers collaboration apps for free that allows your team to do these things using the cloud.
Fourth, you need a versatile, workable phone service for your team. 
Virtual phone systems are the new answer to ensuring that your team members are always able to stay in contact with each other and key clients.
Virtual phone systems allow them to answer calls or have them directed to the appropriate responder. As a bonus, they also have menu applications that allow callers to access key pieces of information on their own.
These systems are professional and efficient. They also protect against frustration where team members keep trying futilely to reach each other.
With these four key tools, your team will be able to work better and more efficiently.
You might also consider some project management apps that allow you to keep track of the milestones of each project.
---