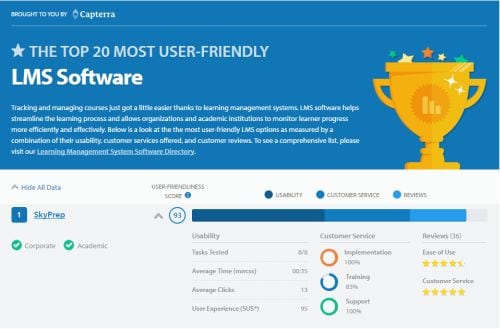 Most User-Friendly LMS Software
We've received some really great news regarding feedback from our valued customers. According to Capterra, SkyPrep has been ranked the number 1 most user-friendly LMS software in the market!
We're so proud of this accomplishment because we work incredibly hard to create the best user experience for all our customers, and constantly strive to find the best methods to make the usage of our platform simple. It is a great feeling to see how customers are recognizing our efforts in regards to our customer service as well. We believe that an LMS should not only be effective for your training but it should be simple, easy-to-use and intuitive, even for the non-technical user.
We're also extremely happy to be listed as the 3rd most affordable LMS software in the market. But there's no stopping here. We will continuously work hard to not only provide our customers with the best service but to strive to meet all our customers needs in regards to functionality, overall quality as well as value.
From the SkyPrep team, we'd like to give a big thanks to everyone who has acknowledged and recognized our hard work! Thank you!
---