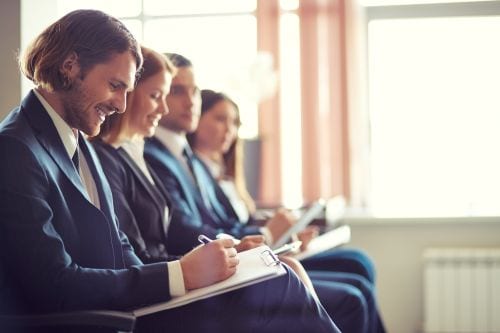 Easy Employee Training Options
Thanks, to Skyprep's online training platform, providing your employees with impactful, time-efficient, and cost effective training has never been easier.
Here are a few different options for delivering online training to your employees.
1. Videos
Video based training has the potential to be a highly engaging way to train your employees. When employees actually engage intellectually with the content of your training material, they will be much more likely to retain the content being delivered.
This could very likely have a direct impact on your company's bottom line – whether it's safety training that results in more productive employee's and less time off, or sales training that results in your salespeople achieving peak performance and maximizing your top-line revenue.
2. Slideshows
Slideshows are another great way to deliver training content. The SkyPrep platform allows employers to incorporate PowerPoint presentations into their training, giving you slide-based training presentations an added element of sleek professionalism, increasing the perceived legitimacy of the content.
3. Live webinars 
Live webinars allow traditional human-based training to be delivered in a highly cost-effective web enabled manner. Traditional teaching solutions can be prohibitively expensive due to travel and space requirements. Still, training delivered by an actual person has its pros, in that trainees may be able to ask questions, and trainers may be able to gauge the understanding of trainees in real time, and adjust their explanations in order to maximize the understanding of the specific group being taught.
Live webinar-based training allows employers to reap the benefits of human based teaching, without having to incur many of the costs associated with traditional in-person training.
4. Tests & Quizzes 
Delivering tests and quizzes are fantastic ways of incentivizing your employees to engage with and internalize the content of your training. If employees are aware that they may be tested at the end of a training session, they may pay greater attention to the content being delivered.
As well, tests provide a way for you as the business owner or manager to actually ensure that employees have gained a certain level of understanding of the material. This provides you peace of mind in knowing that the training delivered was effective and that your employees have the mental tools needed to work effectively and perform well.
Skyprep's comprehensive online training platform supports all the delivery methods described above. Contact our team today to see why when put in practice, these training options can benefit each member of your organization.
---