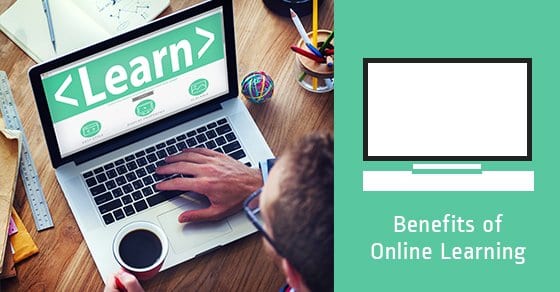 Substantial Benefits of Online Learning
Online learning offers many benefits besides cost-efficiency.
Now, even the most well-known universities and colleges are getting in on the act by offering Internet-based courses. Although classroom learning is still popular across the board, there are ways that online learning has actually improved on the schoolroom setting.
Five Key Benefits of Online Learning
Results are immediate.                                                                                         Today's standardized tests can be integrated online, allowing students to get feedback with the click of a button. This will give the student the opportunity to see where they went wrong, while the reasoning for their original answer is still fresh.
Retention of material increases
Through the use of multimedia and design tools, online instruction gives people what they want: Bright colours and less text.Most people are visual learners and have an easier time retaining information delivered via chart, video or infographic on their computer screen than simply by words in a textbook.
Content evolution
Textbooks need to updated every few years to ensure the information they're providing is accurate.
With online learning, updating Internet texts is easy and can be done whenever needed. This allows for online students to receive the most updated education possible.
Better student-teacher relations
With online courses, students may face less intimidation than they would in a large classroom. If a student is shy and is too timid to raise their hand to ask a question during or after a lecture, they will be able to do that with ease in an email or e-chat.Online learning encourages group communications between the students as well, and they can work together through online study groups.
No geographical limitations
Let's say you live in Toronto, but are interested in a program that is only offered at Concordia University in Montreal, but can't afford to relocate. You cannot travel 4.5 hours each way just to go to school, especially if you need to work a full-time job or part-time job to make ends meet.With online learning, you can attend class whenever you want, from wherever you want. All you need is a wireless connection, laptop and headphones and you can sit in a coffee shop while getting your Bachelor's Degree.
Online learning is also beneficial for businesses. If you run a small business, you may not have access to a boardroom where employees can sit through important seminars. You may not even have the funds to offer employee education unless it is done on the Internet. Moreover, your employees will be more likely retain the information from the their staff learning lectures and seminars if they're not forced to sit through something that interrupts their workday and feels mandatory.
Online learning with the help of learning management systems has become a valuable asset for companies, their employees, scholastic institutions and students of all studies. Whether you have something to teach or something to learn, see how online learning can benefit you!
---