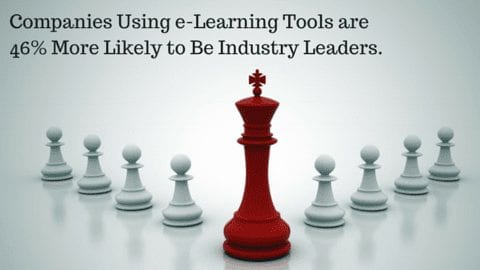 How to Become an Industry Leader with E-Learning
If you're looking to make a major move in your marketplace, you might consider changing aspects of your business like your branding or your upper management. Perhaps its the offerings themselves that need an upgrade.
But have you examined your internal learning culture?  You should, if you want to remain competitive.
E-Learning Tools Create Market Leaders
A study conducted by Bersin & Associates found that organizations that have a strong learning culture and utilize tools like E-learning and learning management systems are 46% more likely to be a leader in their industry.
The study, "High-Impact Learning Culture: The 40 Best Practices for Creating an Empowered Enterprise", also found that companies with strong learning cultures are:
34% more likely to get to market before their competitors
18% more likely to currently be a market-share leader in one or more of their markets
33% more likely to report higher customer satisfaction than other organizations
39% more likely to report success implementing customer suggestions; and
58% more likely to be successful at developing the skills needed for meeting future customer demand.
Embrace E-learning, Like Your Competitors Have
Successful companies need to provide the best in employee training AND find the best way to deliver it.
More and more companies are adopting e-learning tools, while phasing out the more traditional (and less effective) ways of training their employees. In fact, recent numbers show that E-learning is a $56.2 billion industry, and it's going to double by 2015.
Companies are already seeing the value of revamping the way they train their employees. E-Learning tools help you train your employees in a more focused and effective manner. Your employees are able to learn from their own computer, and on their own schedule, instead of being pulled from their work into a boardroom for a group training session.
E-learning sessions are more focused and take less time. On top of that, employees have been proven to retain as much as 60% more of the curriculum, compared to traditional training sessions.

How You Can Start E-learning with Your Company
If you're looking for a way to increase productivity and make strides in your industry, changing your learning culture is certainly less expensive than re-launching your brand image, or less intrusive than introducing a new CFO. Introducing E-learning can be the effective solution your business needs to kickstart the new year into greater profits.
Like many businesses, you may not know where to start. There are many user friendly tools on the market that allow you to set up an E-learning website for your employees with minimal effort. You don't need to be a programmer or know any fancy HTML to do it.
One online training tool you may want to try is produced by SkyPrep. One of the best advantages to this software is that you can "try before you buy." SkyPrep offers a FREE 30 day trial, as well as free one-on-one demos to all new users. If you think E-learning would make a great asset to your company, then click here to request a free demo of SkyPrep.
---