What are the Benefits of Using eLearning?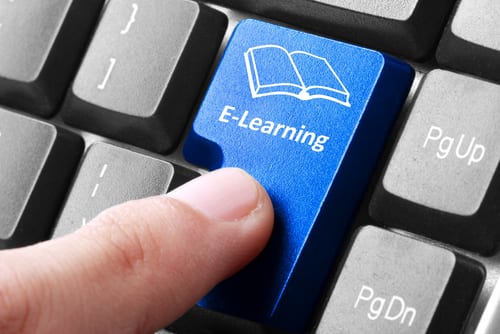 You probably already know the benefits of giving your employees the training they need to succeed. But you may not know how to coordinate it all. Or, even where to start.
You may worry you can't spare the time to get your staff all together for a group training or up-training session.
E- learning can help to save your company valuable time and money by enabling instructors to reach a wider audience and easily train them over a web based environment with the accessibility of an anywhere and anytime approach.
There are several advantages to using e-learning including:
Anywhere, Anytime Learning
E-learning allows you to train and manage your employees simply by uploading training materials to a specified location. This in turn will allow your employees to access materials using the internet at any time and place of their choosing.
Intelligent Insights with Reports and Stats
E-learning systems can help you to gauge the progress of your employees during the training program using advanced tracking and reporting features. You'll have access to:
-User reports
-Group reports
-Course reports
-Compliance reports
-And learner statistics
These reports can allow you and your trainers to identify the progress of your employees, regardless of the size of the training class.
Easily Create and Conduct Online Tests
You can create, add, and adjust surveys and quizzes utilizing a wide array of security controls, all while monitoring and preventing cheating that may be taking place. You and your instructors will be able to easily set up certification processes, gauge learning levels, and even automate grading.
Save Time
By using e-learning management systems for training sessions, you can save yourself and your instructors' time over the traditional method of training programs and the way they are delivered. You can easily organize and schedule e-learning sessions according to your employees schedule. Online training sessions are also more efficient because they can be:
1. Updated constantly
2. Backed up
3. Imported into other online course curriculums
4. Be used several times
5. And be shared with other instructors conducting similar training
Save Money
The monetary costs associated with online training are minimal compared to physical training programs. You can eliminate hourly instructor payments, transportation costs, time spent away from the workplace, and in some cases even lodging costs for instructors.
E- learning management systems allow your business to save on paperwork and administrative costs, as online training courses can be used multiple times no matter where your employees are located geographically.
Easily Customize and Update Your Content
Since all of your training materials and course outlines are located in one central hub, you and your trainers can update new or existing content with ease and flexibility in just a short matter of time. E-learning programs allow you to keep your courses updated constantly so that your employees are always learning the most up to date and relevant information about their company.
Schedule Training Easily and Personalize Interactive Training
E- Learning Management Systems allow you to coordinate training schedules according to different employee shifts, so that you can train anywhere at any time. This also allows instructors to create interactive environments using everything from audio, video, images, and text as learning aids.
Ready to see what these tools can do for your company? Fill out this form to schedule a demo and we will provide you with a complete tour of SkyPrep.
---