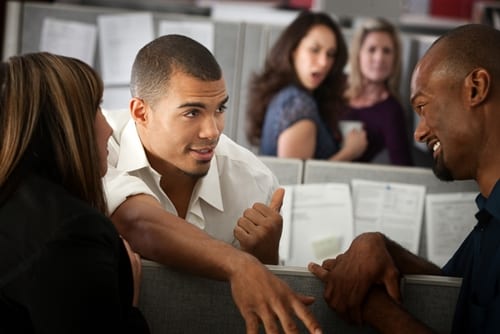 What's Distracting Your Employees?
Getting distracted while working is commonplace among most offices, whether employees are spending time on social networks or taking extended lunch breaks to watch the World Cup. Employers can't eliminate all of these distractions from the office, but they can become aware of the most common ones and learn about how to best manage workers' attention.
Using the computer in the workplace, such as for accessing online training software and social media, allows workers to engage with virtual platforms during the workday, but if not properly managed, may lead to further distractions. There are ways, however, managers can ensure their workers remain focused and interactive with these programs so that they do not lose company time.
Most common distractions in the workplace
While many workplace advancements have lead to greater productivity, these same devices may be the ones distracting employees during the day. A study conducted by CareerBuilder found that the two most common things that may prevent staff members from completing their work were technology and co-workers. According to the results, 50 percent of employees were disrupted by cellphones or texting, 42 percent by chats with co-workers, 39 percent by the Internet and 38 percent by social media.
Rosemary Haefner, the vice president of human resources at CareerBuilder, explained that the smallest things may cause workers to lose productivity, especially if managers do not implement measures to keep employees on track.
"While many managers feel their teams perform at a desirable level, they also warn that little distractions can add up to bigger gaps in productivity," Haefner said in a press release. "It's important to be organized and designate times to work on different deliverables. Minimize interruptions and save personal communications for your lunch hour or break. It can help put more time and momentum back into your workday."
Ensuring employee attention
Respondents indicated that while many factors lead to distractions at work, managers found ways to best reduce the number of disruptions that occurred. More than 73 percent of employers said they adopted measures to reduce these occurrences, from monitoring workers' computer habits to forbidding cellphones in the office. Haefner, however, said there are simpler things that employees can do on their own.
For those who anticipate being distracted by the Web, they should prioritize tasks, creating organized lists of what should be accomplished during the day. This way, they are less likely to wander through cyberspace when they know they have work they should be doing. Additionally, workers should cut down on the number of devices or programs that may interrupt their flow, such as cellphones and open social media tabs.
---