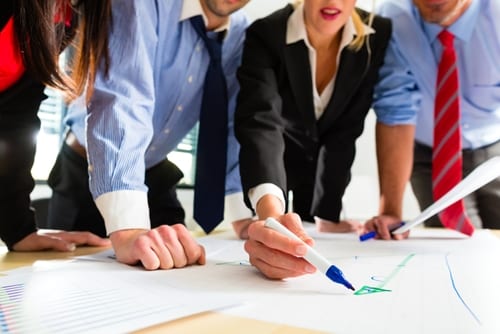 Tactics for Building a Collaborative Workforce
A primary goal of any employer is to build and maintain a productive, energetic, loyal and innovative staff. This kind of workforce depends on establishing a positive environment that encourages idea-sharing and constant engagement. Unfortunately, many businesses seem to be falling short in this regard. A new global employee engagement study by ORC International revealed that 37 percent of workers were encouraged to be creative, one-third of employees did not feel they have a positive relationship with managers and only about half of them felt valued at work.
It's crucial for firms to generate a corporate climate that fosters strong relationships to ensure efficiency, growth, client satisfaction and overall success. Here are some ways that businesses can set the tone for engagement:
Look for negative signs
There are some tell-tale indicators that staff members are feeling unengaged. Look for these signals and you can work to re-motivate your staff members before they become entirely apathetic about their roles. For example, employees that take frequent breaks or spend a lot of time on the Internet doing things unrelated to work are probably losing interest in their jobs. If your staff members seem to be participating in water cooler gossip, you'll want to address the situation before it undermines the trust and confidence of your workforce. This kind of behavior can quickly breed a toxic environment, so it's best to establish rules about office behavior, including gossip, from the get-go. You might even include these guidelines into the onboarding process by implementing quizzes about appropriate office behavior using online training software.
Set an example
It's up to management to lead by example when it comes to engagement. After all, as Forbes pointed out, why would employees embrace collaborative strategies and tools if business leaders aren't? If you want to truly see a change in the environment, you'll need to encourage interaction within the office – whether by implementing a separate lunch room for socializing or setting up informal communities for them to join based on their interests. Additionally, management should actively demonstrate relationship-oriented skills as much as possible, setting specific goals for cooperation and team-building at company meetings.
Train for teamwork
The extent – and type – of training that you practice within your organization can have a big impact on how collaborative your team is. It's imperative to continue to develop staff members' strategic thinking skills beyond the onboarding process. Moreover, management should be trained in coaching and mentoring as well. You can even create online courses that hone leadership skills, testing your staff members and ultimately rewarding their efforts.
---
2 responses to "Tactics for Building a Collaborative Workforce"