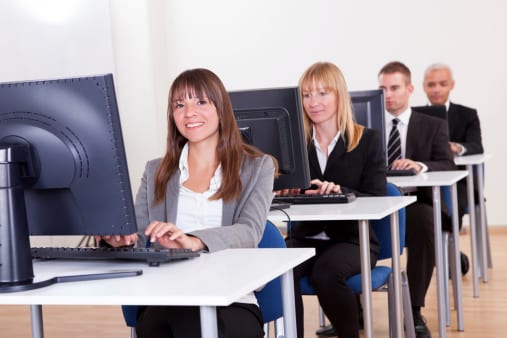 Seven Tips For Building Courses in an Online Training Software
There is a lot of talk in education and training circles these days about the importance of authentic learning and assessment. It isn't easy using an online training software to build courses that feel genuine and directly relevant to the task at hand, but it can be incredibly rewarding in the form of increased employee engagement, higher productivity and greater compliance. Designing authentic learning experiences means thinking about who you are designing for and how the learning activities relate to their real-world applications. You can start by following these simple steps:
1) Plan with the end in mind.
Building authentic learning activities means thinking about what you want your employees to take away. If it's designed to introduce and help them understand a new policy, give them real-world examples that show them how to apply it.
2) Break down the work into small steps.
It is often easier to learn complex or important material if learners are gradually guided towards the end results with steps that build upon each other. Try breaking down the overall learning objective into a series of activities to help you learners master the work. Focus on providing an overview of the work, helping them grasp core concepts and then give them time to practice applying the new information, or skill.
3) Have fun.
Make sure you build in a number of moments to induce laughter and bring your learners out of their shell. Icebreakers, games and other exercises placed at proper intervals can keep training activities lively and engaging.
4) Use rubrics or learning goals.
Be sure to use rubrics and learning goals to ensure that your learners know exactly what is expected of them and to ensure that feedback and assessment is transparent and reasonable. Fair and open assessments help keep the learners on your side and open to your feedback.
5) Tap into their interests.
Use your employees' interests to differentiate the training and keep it interesting. Consider giving them different options to demonstrate their learning, play to their strengths and keep them engaged.
6) Let them move at their own pace.
By using a variety of on-demand tasks you can allow your learners to move through the material as they master it, making sure that they understand each component. Online learning modules are particularly useful for this.
7) Assess using a variety of tools.
In order to determine how effective training has been you need to assess overall learning. Don't rely on just one tool. Get feedback throughout by allowing participants to post questions instantly to an online forum. Include a number of small quizzes to make sure employees are on track and up to speed. Be sure to assess everything yourself so you have a sense of where things are going right and where there might be room for improvement.
By keeping these tips in mind when designing training activities, you can ensure that your employees are mastering the content rather than rushing through it until the next break. Keeping learning authentic means keeping staff engaged. An engaged learner is a successful learner.
---
One response to "Seven Tips For Building Courses in an Online Training Software"