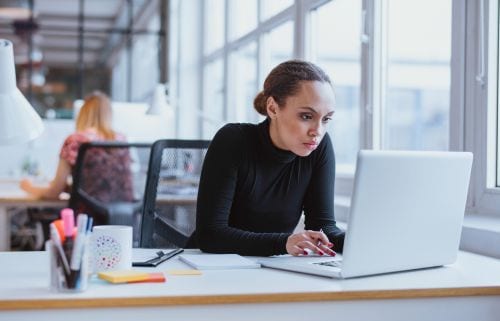 5 Productivity Tools That Help You do More in Less Time
People have never been busier, and a world full of sticky notes, scratching on random sheets of paper and ink on the palm of your hand just doesn't work when it comes to organizing your life and keeping up your high production standards.
More and more executives are turning to time-saving apps, only to discover that some of them really take more time to set up than the minutes they actually save you.
If you are asked to recommend better apps for productivity solutions, start by looking first to solve immediate problems. For example, are you bogged down getting documents scanned and signed, saving and being able to search banks of employment applications, or handling invoices efficiently?
There is no one-app-does-it-all solution to a productivity challenge. In fact, there is rarely even agreement on what productivity really means.
The apps suggested here are based on a definition of productivity meaning to make easy the routine tasks so that your managers have more time to do the creative, one-of-a-kind projects for your company.
The ultimate to-do list
Remember the Milk is a to-do list on steroids.
Created by Emily Boyd and Omar Kilani who describe themselves as "two desperately disorganized people in Sydney, Australia," and joined by Bob T. Monkey to launch in October of 2005, this to-do list app is super-sophisticated and yet easy to use if you need to know what you have to do and when every day of the year.
Even if you switch time zones, it reminds you and adjusts your due dates.
You can re-order your tasks by clicking and dragging, color your task categories with bright tags, and break down big tasks into smaller ones. There's a handy list of repeating options (do this every month) and an easy way to break down mega-tasks into sub-tasks.
Now based in San Francisco, the company continues to draw in time-challenged users. Current usage now stands at more than 6 million people around the globe.
Google's G-Suite still tops for many users
There's lots of new apps on the market, but the enduring popularity of G-Suite makes it worth considering for small and large businesses alike.
You can use it to store employment applications and organize your payroll, store documents, track schedules and hours worked or merchandise orders among a host of other things.
For small businesses with limited storage space, you can keep everything clear with its cloud-based storage.
Small businesses who want to use Google Docs, Sheets and Slides to share with a few colleagues can likely get by with the free version. For mega users, however, there are paid categories that start with $5 a month per user.
It is powerful and flexible and is useful particularly for companies who collaborate with a number of different employees in different locations.
Tools for document heavy professions
While Scanner Pro is useful to anyone in business, it is particularly efficient for managers who have to sign forms and documents regularly and send them off quickly.
You just point the camera at the document and it automatically sees what needs to be scanned and grabs it.
The manager can send it off signed just seconds later, and save a copy for his or her records if needed.
Creating an online workspace
BoostHQ becomes a workspace for your team's documents, spreadsheets, videos, links, checklists, polls and discussions. It allows you to boost team collaboration by allowing team members to collaborate and discuss together in order to push work forward.
It's so simple to use and organizes all of your content online so you no longer need to spend hours trying to find and retrieve shared files.
Podio is the another tool for online workspace for small companies with a string of remote clients and workers.
This business collaboration tool allows you to create a work management platform and add apps to it.
For example, you might start with the priority of project management, but then you need to do invoicing, so you just add the app and keep going, all in one program.
Use technology to your advantage and use these tools to get more productive.
---