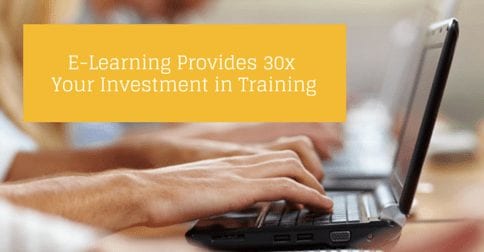 See a Return of $30 for Every $1 You Spend on e-Learning Employee Training
Too many companies are not getting enough value from the money they spend on training. More often, they regard the training as a waste of time, instead of as a boost to productivity and retention.
Company management typically assumes that to train (or retrain) staff, you have to:
Take employees away from activities that actually generate money
Pay for a trainer's time
Perhaps pay for a trainer's travel time
Maybe even pay for a trainer's accommodations
Where is the ROI? Few have ever seen it. But what if you could see a tangible return of $30 for every $1 spent on employee training?
You can. Simply do away with the inefficiencies of the past and embrace E-learning.
Where to Find the ROI from E-Learning
Every $1 spent in E-learning results in $30 of productivity, according to a report published by IBM, called "The Value of Training."
E-learning also strips away most of the unnecessary costs that come with delivering the actual training, by:
Removing a trainer's travel or accommodation costs
Letting workers train anywhere, on their own schedule
Enabling trainees to spend less time on each module or topic, versus traditional methods
Simply put, you slash the costs of delivering the training, while employees use less time and retain more of the information using a learning management system.
Can E-Learning Actually Help Retention?
The IBM report also explains that you need to factor in the savings that come from using E-learning to retain and promote your strongest employees.
"Training and an investment in developing a skills building culture dramatically impacts employee retention," said the IBM Report.  "Only 21% of new hires intend to stay at companies that do not offer training for their current jobs. However, the study reveals that 62% of new hires intend to stay when training is provided."
 
How You Can Start E-Learning with Your Company
Most businesses that are still using the traditional methods of training are doing so because they don't see the value in upgrading, or changing what they perceive as "a system that works."  Unfortunately, without embracing the future of online training, a business will not be able to remain competitive.
Like many businesses, you may not know where to start. There are many user friendly tools on the market that allow you to set up an E-learning website for your employees with minimal effort. You don't need to be a programmer or know any fancy HTML to do it.
One online training tool you may want to try is produced by SkyPrep. One of the best advantages to this software is that you can "try before you buy." SkyPrep offers a FREE 30 day trial, as well as free one-on-one demos to all new users. If you think E-learning would make a great asset to your company, then click here to request a free demo of SkyPrep.
---