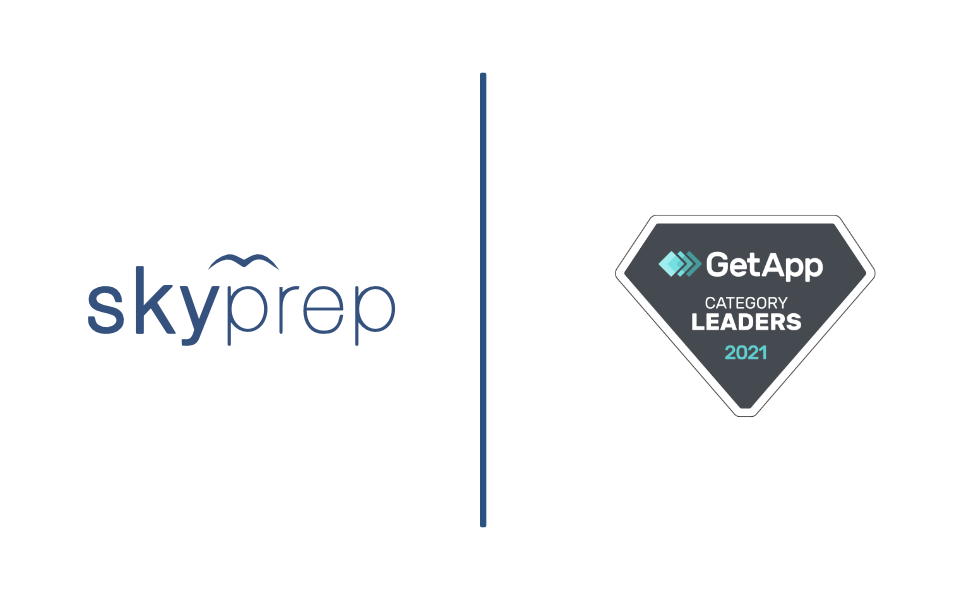 SkyPrep Placed on GetApp 2021 Category Leaders Report for Training Software
We're honored to be recognized as an industry leader in GetApp's training software Category Leader ranking for 2021, an elite report based on extensive data from customer reviews.
SkyPrep was named a Category Leader by GetApp for Training Software. We are proud to be one of the top 15 highest-rated solutions in GetApp's 2021 Category Leaders ranking. These Category Leaders are designed to help small businesses evaluate which software products may be right for them.
GetApp is a Gartner company that enables SMBs to achieve their mission by delivering the tailored, data-driven recommendations and insights needed to make informed software buying decisions. It serves as the recommendation engine SMBs need to make the right software choice.
Category Leaders rankings highlight top-ranked North American software products based on ratings from end-users in five key areas:
Ease of use
Value for money
Functionality
Customer support
Likelihood to recommend
Each Category Leader is shown with a radar chart showing the product's scores for each of the five areas (shown in aqua blue) relative to the average scores of all products in the category (the dark blue lines).
Data sources include approved user reviews, public data sources, and data from technology vendors. You can learn more about their methodology here.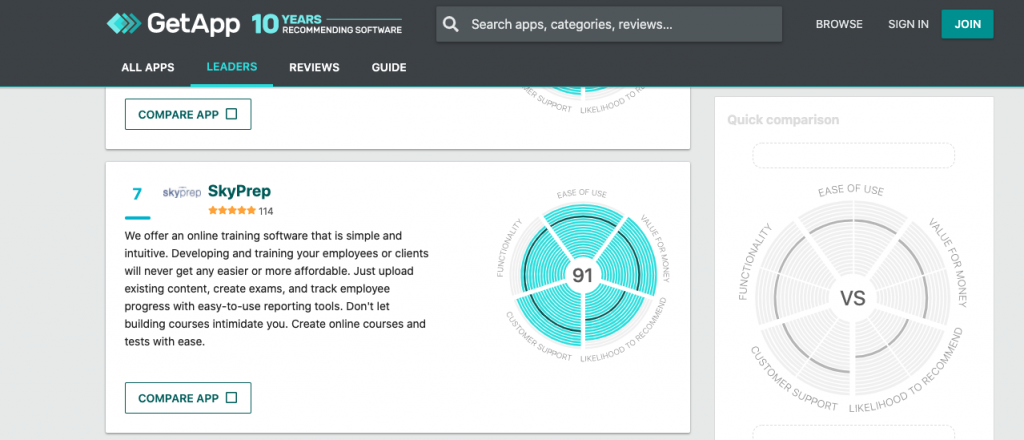 We're thrilled to have scored 91 points out of 100, with individual scoring as follows:
| | |
| --- | --- |
| Key Area | Our Score (Out of 20) |
| Ease of use | 19 |
| Value for money | 20 |
| Functionality | 16 |
| Customer support | 19 |
| Likelihood to recommend | 17 |
Thank you to all our customers who took the time to review us. We couldn't be happier to get so much positive feedback from our users!
SkyPrep is an intuitive industry-leading LMS and employee training software that allows you to deliver effective internal/external training, onboarding, compliance training, and more to your employees, partners, and customers.
Helping 500+ organizations in various industries globally, we can bring your team members up to speed on your products and processes quickly so that you continue making your business a success.
Request a demo to take a closer look at SkyPrep and see how it can help with your online training needs.
---