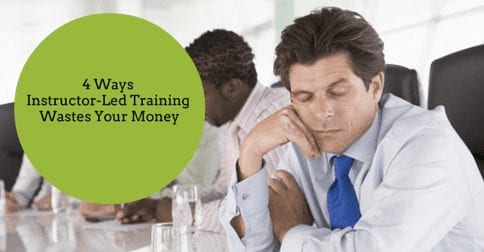 4 Ways Instructor-Led Training Wastes Your Money
Does it seem like you receive zero payoff from your employee training sessions? Are your employees nodding off in a boardroom, then leaving the session no more "trained" than when they arrived? You're not alone.
Far too many companies are still wasting their time and resources on traditional instructor-led training sessions. They have the best intentions, but end up with the scenario detailed above.
"I've lost count of the times that I've faced a room full of people who've been sent to me to 'fix them'. No one has asked them if they want to – or feel the need to – attend this program," wrote business strategiest Sandi Givens in an article on LinkedIn.
"They haven't been told what to expect, what's in it for them, how they will benefit … much less been asked what they really need to learn to help them be better at their jobs."
Still not convinced? Below are 4 ways that these old methods are wasting your money.
How Instructor-Led Training is Burning Your Dollars (and Time)
Online training is the future.  The following four reasons why instructor-led training is not as profitable or useful should convince you.
1)  Bringing in Instructors
Most of the costs associated with training come from delivering the actual instruction. These can mean purchasing training materials, bringing in a special trainer, and even paying for their accommodations.
This can add up in a hurry. And if you're reading this article, you've probably seen little to no return on that money.
2)  Your Employees Aren't "Working"
By taking your employees away from their day-to-day duties, you're removing them from the activities that you hired them to do—the ones that actually make you money. The sales team isn't making sales, and account managers are missing calls from clients.
This is because training sessions rarely work around these people's schedules.
3)  Your Employees Aren't Learning
The most glaring issue is that your employees probably aren't learning anything.
Even the most diligent employee's mind will soon start to wander during traditional training sessions. Their mind may soon drift to what they plan on doing after the training session, or something less productive.
4)  Under-trained Employees Will Under-perform… or Quit
This is the biggest drain on your money, and you probably haven't even realized it yet. It's been estimated that nearly 25% of all employees leave their job because of a lack of training or learning opportunities.
This costs you thousands of dollars in turnover.
What's the Alternative for Effective Employee Training?
It is possible to get an actual return on your training dollars. Embrace newer training techniques such as learning management tools.
These allow your staff to get trained online, anywhere and anytime. So there is no need to take them away from their jobs for a half-day, nor pay for someone to come in and train them.
At the same time, The Research Institute of America recently stated that e-Learning has the power to increase information retention rates by up to 60%.
How You Can Start E-learning with Your Company
You can eliminate all of the money drains listed above by throwing out old training manuals (and methods) to embrace new tools like e-Learning. In fact, its been estimated that e-Learning saves businesses at least 50% when they phase out instructor-based training.
Like many businesses, you may not know where to start. There are many user friendly tools on the market that allow you to set up an E-learning website for your employees with minimal effort.
One online training tool you may want to try is produced by SkyPrep. One of the best advantages to this software is that you can "try before you buy." SkyPrep offers a FREE 30 day trial, as well as free one-on-one demos to all new users. If you think E-learning would make a great asset to your company, then click here to request a free demo of SkyPrep.
---