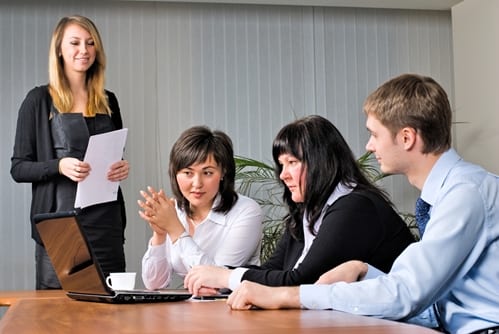 Adopting Blended E-learning
Many institutions, companies and corporations continue to adopt e-learning in their operations. Whether businesses are implementing online training software or schools are integrating digital platforms on which students can learn, organizations have found ways to alter their operations to provide high-quality education.
One way that these institutions have altered their e-learning strategies is by introducing blended learning, or a combination of in-person and online tactics. Educators have found this method allows them more time to further develop learning concepts in the classroom, while business executives can further expound upon workplace concepts with the assistance of professionals.
What is blended learning?
Blended learning is a strategy that uses online forums and in-person teaching to educate students with a more comprehensive approach. People in blended learning programs typically receive digital concepts to complete online alongside supplemental classroom teaching taught by a professional. E-learning Industry reported that this tactic allows instructors to engage with pupils in a more interactive and immersive environment, using a blend of digital courses, virtual assessments and online resources to act alongside individualized, in-person conferences to gauge students' progress.
Through these means, not only does communication between teacher and pupil vastly improve, but so too does the overall educational experience. Students in these classrooms have the chance to familiarize themselves with technological advances while also learning from professionals in their industries.
How can my business apply blended learning?
Implementing a blended learning program may vary by the field in which executives work. For those in the education world, they may choose to integrate a flipped classroom – or one where students spend time outside of class learning concepts and lessons while in-person time is spent with teachers to discern individual progress and complete homework. Educators appreciate this tactic because it allows them to provide a more personalized learning experience for all students, as the online capabilities permit pupils to move at their own pace while in-person sessions connect students to professionals who can accurately answer questions.
Companies, however, have a bit more leeway when adopting these practices. Managers could elect to adopt online training training development software for students to complete during their own time, then have seminars or meetings during which main concepts are highlighted by business professionals. Alternatively, when having employees interact with online training software, executives could host group sessions during which certain topics are explored more in-depth.
---
2 responses to "Adopting Blended E-learning"